AirDoctor 3000 Air Purifier
Out of stock
$694.00
The AirDoctor 3000 Professional Air Purifier is 100x more effective than ordinary air purifiers.  Ordinary air purifiers ONLY remove 1/2 of the contaminants in the air because the ONLY remove particles…not dangerous gasses like formaldehyde.  AirDoctor is the first affordable professional-quality air purifier that removes almost 100% of particles, contaminants AND toxic gasses from the air in your home.  AirDoctor 3000 cleans the air in up to 154 sq m 5x/hour or in 385 sq m 2x/hour.
AirDoctor Removes
Particles
Viruses & Bacteria
Pollen & other Allergens
Pet Dander & Animal Hair
Mold Spores & Dust Mites
Cigarette & other Smoke
VOC's with Gasses Released from:
Candles & Paint
Building Material & Carpeting
Cleaning Products & Air Freshener
Nail Polish & Hair Spray
Plus Ozone & Formaldehyde
AirDoctor's UltraHEPA Air Purification Technology Effectively Removes Live SARS-CoV-2 Virus From Air
Results from independent laboratory testing show AirDoctor air purifiers remove 99.97% of live SARS-CoV-2 virus
PRESS RELEASE
UPDATED: OCT 13, 2021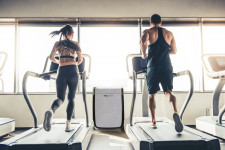 LOS ANGELES, October 13, 2021 (Newswire.com) – AirDoctor, a global leader in air purification, announced results of independent laboratory testing of its UltraHEPAⓇ air purification technology that show it removes 99.97% of live airborne SARS-CoV-2 (COVID-19) from the air. These successful results were achieved using the live aerosolized SARS-CoV-2 virus on the AirDoctor 3000 purifier in a test chamber and conducted by U.S.-based MRIGlobal, an independent, not-for-profit contract research organization. These results build on AirDoctor's previous independent laboratory testing that showed AirDoctor purifiers remove a variety of bacteria and viruses, including H1N1,1 and airborne particles as small as 0.003 microns.2
"With more activities requiring the return to public spaces, many people are understandably concerned about the threat COVID-19 poses to their health and the health of their loved ones. AirDoctor is committed to reducing the risk of infection with effective, industry-leading technology backed by rigorous independent laboratory testing. For over 15 years, our team of air purification experts has been dedicated to providing peace of mind to consumers through innovative products that have undergone third-party testing and produce transparent results," said Peter Spiegel, founder and co-CEO of AirDoctor and Ideal Living.
Out of stock